Exceptional knowledge, Extraordinary service
The Silk District – The Bouchon
The last chance to buy at this local landmark
By appointment only due to COVID-19.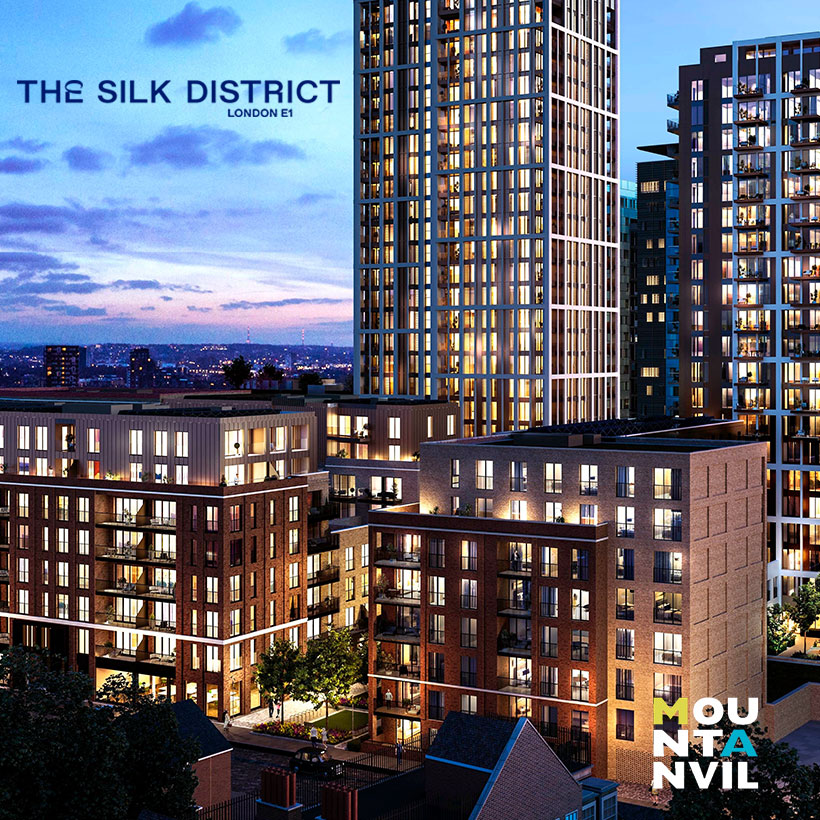 The Silk District sits equidistant between two of London's largest financial districts, The City and Canary Wharf, and is next door to Zone 1.
We have everyone from City financial and tech workers to creative pioneers moving in, attracted by the culture, lifestyle and job opportunitiesin and around the area.
SCROLL
The Silk District is part of a new chapter of investment in the area. Only a 3-minute walk away, the Elizabeth Line (Crossrail) is coming in 2022, turning it into an even more significant transport interchange. You're buying more than a home at The Silk District, you're buying into a location that's going places.
The Mayor's "Whitechapel Vision" is a £300m investment in improving the local area. Creating a new shopping destination, new public squares and first class educational opportunities for you and your family.
Centrally located, The Silk District has access to a varied range of educational facilities, giving parents the best of British education on their doorstep, for their children. Surrounded by world-class universities, individuals will be able to gain valuable skills, leading to successful careers, opening doors to priceless professional and personal networks.
On the cusp on zone 1, The Silk District is brilliantly located, equidistant
between two of London's largest financial districts, the City of London and Canary Wharf.
£300m area regeneration, including the opening of Crossrail in 2022,
new parks and a medical research university
3-minute walk to the new Crossrail station, cut your current journey times by more than half 1.Today, Canary Wharf sits 23-minutes away, with Crossrail enjoy a quick 3-minute journey.
Led by Whitechapel's proximity to both London's major financial districts and ongoing regeneration, professional tenants abound in E1.
Benefited from 4 tube and train lines, Silk District could reach reach key London destinations like South Kensington, King's Cross St Pancras and Stratford International in 16 minutes.
With a low price per sq. ft compared to neighbouring boroughs, The Silk District is ranked top for future price growth potential.
City financiers, Silicon Roundabout tech workers and creative pioneers (Shoreditch House being within walking distance) are moving to E1, for the
lifestyle and job opportunities in the area.
Part of the Whitechapel Vision, the campus will draw medical professionals to the area. Find also 7 Ofsted Outstanding-rated schools and 3 excellentuniversities within 1 mile of The Silk District.
Thanks to its central location, The Silk District have breathtaking view of canary wharf and the City.
Call on the professional concierge, work from home in the fully equipped flexible work space or enjoy the high-tech gym and luxury private cinema.
The Silk District – The Bouchon
Location

Raven Row, Whitechapel, E1, London, UK

Size

423-766 sqft (internal area)

Developer

Mount Anvil and L&Q

Apartment Mix

Studio, 1 bed & 2 bed

Tenure

999-year lease (from 01/01/2019)

Starting Price

£587,000